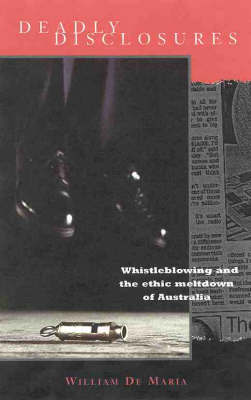 $15.00
AUD
Category: Crime & Punishment
Australian whistleblowers, like miners with lights on their hats, take us into a world of wrong-doing that few of us know or want to believe exists. Deadly Disclosures is a provocative analysis of the degeneration of public ethics in Australia. William De Maria's attack on public wrong-doing is carried on the wings of case studies of Australians who have blown the whistle in order to improve ethical standards and suffered terribly for their efforts. His book paints an alarming picture of Australian institutions and workplaces where managers and employees alike turn a blind eye to wrong-doing and victimise the minority who rock the boat. 'Bill De Maria has written an important and fascinating book which reminds us how corruption protects itself and how it can be exposed by honest and brave soldiers for truth.' - Evan Whitton ...Show more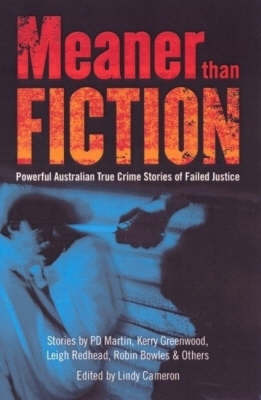 $12.00
AUD
Category: Crime & Punishment
A fascinating yet unsettling look at the Australian justice system, one that many believe is a system to be trusted and relied on to convict the guilty and free the innocent. Not so, according to the true crime stories in this book.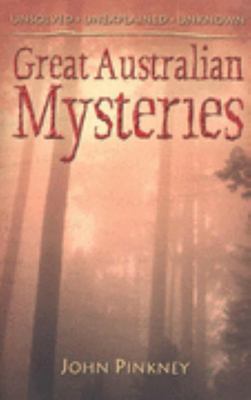 $15.00
AUD
Category: Crime & Punishment
Chronicles the most tantalising of Australian true mystery stories. It includes inexplicable disappearances, some which defy logic, unsolved murders, mystifying phenomena and scientific enigmas.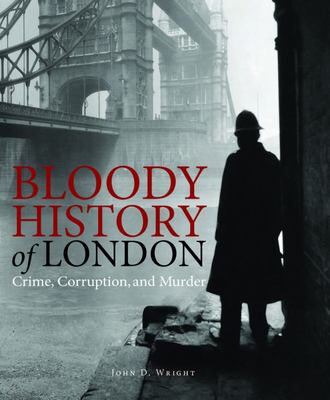 $22.00
AUD
Category: Crime & Punishment | Series: Bloody Histories Ser.
"When a man is tired of London, he is tired of life; for there is in London all that life can afford." - Samuel Johnson From plagues and poverty to financial scandals, serial killers to public executions, mad monarchs to barbaric mental asylums, Bloody History of London reaches deeply into the city's l ong history and ranges widely across the social, political and cultural life of the metropolis. Founded by the Romans and attacked by the Vikings, London grew to become an immense trading city. Included here are tales of medieval torture in the Tower, burnings at the stake during the Reformation and Counter-Reformation, the merry debauchery of the Restoration and the market crash of the South Sea Bubble. From political skullduggery among the Tudors to the Cold War Profumo scandal and assassination of Georgy Markov, the book is a lively account across almost 2,000 years of London history. Immensely entertaining and illustrated with 180 color and black & white artworks, Bloody History of London is an engaging and highly informative exploration of the highlights of London lowlife and the depravities of London's high life. ...Show more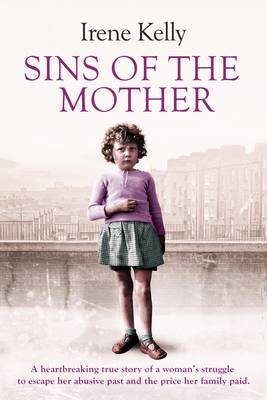 $7.00
AUD
Category: Crime & Punishment
Jennifer Kelly was a lonely child. At fifteen she was living with her Dublin-born parents Irene and Matt in Manchester. Irene was a recluse, shutting herself away for days at a time, crying non stop, and Jennifer started to dread going home. She knew nothing of her parents' past - until, one day, Irene had a phone call from Ireland that would change their lives forever. A commission had been opened to investigate claims of abuse in Catholic-run industrial orphanages and for the first time Irene was forced to confront her terrible memories. Brought up in poverty, and half-starved, she was abused by her mother from an early age. When her mother was hospitalised, Irene was put in an industrial orphanage where she was treated with incredible cruelty, beaten and sexually abused. She became a wild teen, her life going nowhere, until she met Matt, a young man with his own demons. They moved to England but the pain was not so easily left behind. Sins of the Mother is a powerful and inspiring story of a family whose love was tested but never broken, who finally found the strength to heal the past. ...Show more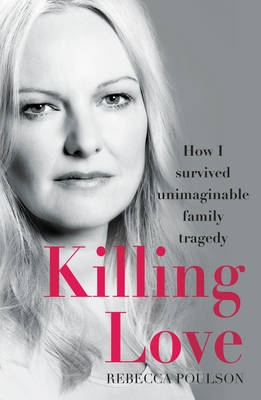 $15.00
AUD
Category: Crime & Punishment
This powerful, unforgettable and uplifting story is one part wrenching family memoir, and one part inspirational journey towards healing and forgiveness - but most of all, it's an unputdownable journey through one family's tragedy and how they refused to let it define them. On the day of Rebecca Poulson 's 33rd birthday, her father, niece and nephew were murdered. The murderer had been part of her family; her brother-in-law, Neung, the father of the children. Killing Love is Rebecca's journey through homicide; grief, the police investigations, the media interest, the court cases, the moments of great despair - and the healing. It is a story of individual tragedy and a family's strength, but it is also a story of a community's attitude to family violence. As a reluctant warrior for those who cannot speak for themselves, Rebecca talked to the NSW State Premier and politicians, on multiple TV shows and to print journalists in the hope that the mistakes made by the police force, DOCS, the legal system and solicitors will never be made again. Rebecca's contact with policy makers has been nothing short of history-making, and her story has directly influenced domestic violence laws in the state. Neung left a note for Rebecca's family; he hoped that he would destroy them. This is the story of how he didn't. ...Show more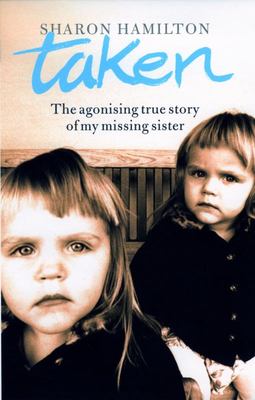 $9.50
AUD
Category: Crime & Punishment
God only knows what fate befell Vicky after, cold and alone at that bus stop, she accepted a lift home.'Abducted from a local bus stop, schoolgirl Vicky Hamilton vanished into thin air. Her disappearance left the country in shock and a family torn apart. Sharon - her sister and best friend - never stopp ed looking for her. Then, seventeen years later, the search came to an abrupt and tragic end.Taken is Sharon Hamilton's heartbreaking true story of what happens to a family when one of its most loved members disappears without a trace. It's about never giving up hope that one day they will come home, and that justice will be done. ...Show more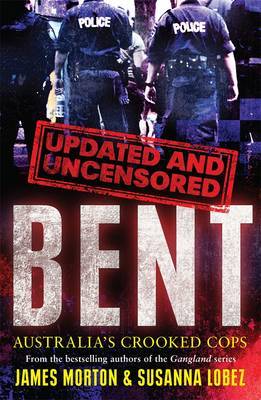 $18.00
AUD
Category: Crime & Punishment
The sensational murder convictions this winter of former NSW detectives Roger Rogerson and Glen McNama0ra for the killing of drug dealer Jamie Gao has meant that previously suppressed material in Bent can at last be read. James Morton and Susanna Lobez have illustrated, in several Gangland books, that A ustralia almost certainly has out-ganged other countries. Now their spotlight is turned on corruption within the police services and identifying which state wins the bent cop handicap.Morton and Lobez examine the problems that started with the First Fleet and spread through to the present day, looking at the trouble caused by greed, power, drink, sex, money and, most recently, drugs. They compare the experience in Australia with corruption in America, England and Hong Kong, concentrating in particular on organised corruption at the highest levels, including judges, lawyers and politicians, through to the petty criminals who work our streets. Which state has the shadiest cops? The answer will surprise you. ...Show more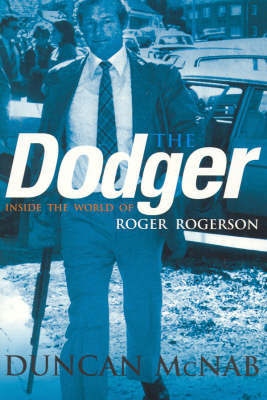 $12.00
AUD
Category: Crime & Punishment
This presents a brilliant, behind-the-scenes account of disgraced former policeman Roger Rogerson, and the police culture that created him. It tells of the rise and fall of Rogerson's friendship with Neddy Smith, heroin dealer and murderer.
$16.00
AUD
Category: Crime & Punishment
In October 1997, a clever young law student at ANU made a bizarre plan to murder her devoted boyfriend after a dinner party at their house. Some of the dinner guests - most of them university students - had heard rumours of the plan. Nobody warned Joe Cinque. He died one Sunday, in his own bed, of a mas sive dose of Rohypnol and heroin. His girlfriend and her best friend were charged with murder. Helen Garner followed the trials in the ACT Supreme Court. Compassionate but unflinching, this is a book about how and why Joe Cinque died. It probes the gap between ethics and the law; examines the helplessness of the courts in the face of what we think of as 'evil'; and explores conscience, culpability, and the battered ideal of duty of care. It is a masterwork from one of Australia's greatest writers. ...Show more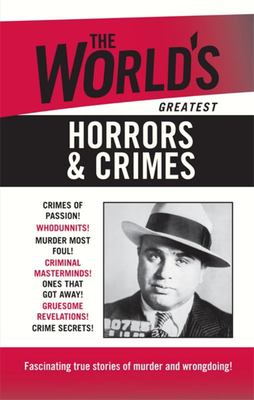 $12.00
AUD
Category: Crime & Punishment | Series: The\Worlds Greatest Ser.
A collection of the most infamous murders, crimes of passion and unsolved mysteries. This book reveals the astonishing, known facts about real acts of villainy, and it probes the fascinating, missing facts that confound the law and are kept in a file marked unsolved.